Come and experience what the leading health and wellness destination on the Central Coast has to offer with our FREE 7 Day Membership!
What does this include?
9 Exercise zones
Over 30 cardio machines
Unlimited access to our group fitness classes
For the little ones…Let them play and learn in Active Kids Club while you work up a sweat!
At Active Fitness HQ we provide every member with support, motivation and the pathway to achieve their fitness goals.

We have a premium range of cardio equipment, as well as a large group exercise studio, wellness studio, cycle studio and outdoor synthetic training zone. Our highly motivated Personal Trainers are result oriented and provide guidance, direction, and expertise to keep you focused. We also offer free to air and pay tv entertainment, child minding facilities and fully equipped change rooms.

Our Group Exercise classes offer a wide range of variety. With dozens of Yoga, Les Mills and specialised classes, there's a class for everyone.

Our Personal Trainers are result oriented and provide guidance, direction, and expertise to keep you focused. Our programs are customised specifically to you –  taking into consideration your strengths, weaknesses, any past illnesses, or injuries, and of course, your goals.

An Exercise Physiologist is a health professional who can help with a range of different conditions and utilise their skills in exercise prescription, combined with their training in behaviour change, to help you manage your health independently. With several years' experience in the Exercise Physiology field, our EP's actively assists their clients with their health and improving their quality of life.

Getting to the gym can be tough but at Active Fitness HQ we offer our members a fun and safe environment for your children, age 6 weeks to 13 years.  Drop your kids off, relax, and enjoy your workout. Our creche is supervised by fully qualified staff.

Here at Active Fitness HQ, our members are our family. If you would like to sign up, come for a trial or if you just have any questions, please let us know!
At Active Fitness HQ we provide every member support, motivation & the pathway to achieve their health & wellness goals.
AFHQ delivers to the market an unrivalled wellness destination and superior and innovative products and services through our talented and ambitious team.   
AFHQ is a vibrant, captivating, and welcoming environment that has been strategically designed for all ages and abilities to navigate with ease and feel inspired to exercise.

"The first time I walked into Active Fitness HQ I was nervous and self-conscious, but I knew I had to deal with my weight and health problems, so I began my journey with a 30-day trial. I was so self-conscious and frightened that I would be judged by other members but from my very first class, all my worries were put to rest. The staff have been extremely supportive and provided endless encouragement and good information to keep me motivated. After 30 days I joined up and have not looked back. Six months later and I am the fittest and healthiest (mind and body) I have been in decades; I've lost over 12 kgs and no longer need prescription medications. I never imagined that at 59 years of age I would be eagerly going to the Gym each week but here I am, and I feel wonderful.
No judgments here just lots of encouragement and lots of laughs.
And thank you for all your help, you have always made me feel welcome and you always remember my name and that counts for a lot."
"
I chose Active Fitness because I've heard such great reviews about the gym and heard the staff and people are lovely.
My favourite thing about the gym is the friendly environment how you don't have to be ashamed to workout. I like to train at least 4/5 days a week and love to come along to a non-judgement gym and enjoy everything that the gym has to offer!!!!"
"I was quite reluctant to join the challenge as I hadn't been to a gym in a very, very long time. I'm so glad I did it, the challenge was a great way to kickstart my fitness journey, increase my self-confidence and improve my mental health. I really enjoyed the group training sessions because they were a great way to keep motivated and step outside of my comfort zone while making new friends. When I look at my before and after photos, I feel really proud of what I achieved and I'm now even more motivated to continue to work toward my fitness goal and a healthier lifestyle.
Active fitness has been the best decision ever.
"
"Before starting Active's 6-week Spring into summer challenge, had a bad habit of drinking during the week, unhealthy diet, and minimal commitment to the gym. Participating in the challenge made me reset my gym and lifestyle goals. With all the support from active and Pinnacle performance & nutrition it made it so much easier. At the start of the challenge
I weighed 116kg and lost 10kg in the 6 weeks.
Highly recommend joining any future challenges"
"I have been a member of Active for about 5 years now, I love strength training... actually I like it all! I try to train 4 days a week including doing PT sessions.
The welcoming environment, the supportive staff and amazing members as well as the facilities all contribute to driving me to achieve my goals.
"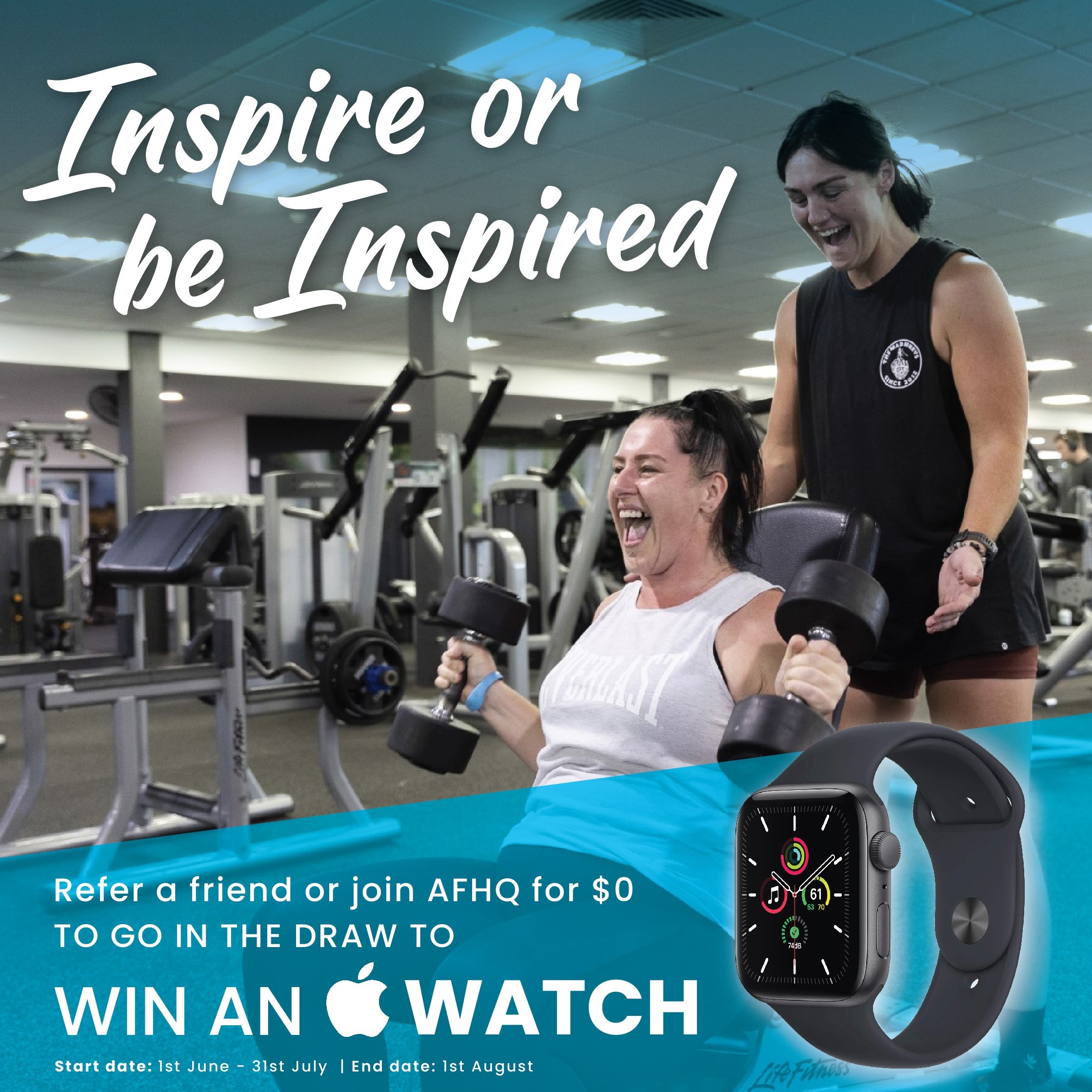 Refer a Friend or Join AFHQ for $0 to be in the draw to WIN a midnight Apple Watch SE…